SIEMENS TQ703R07 EQ.700 INTEGRAL COFFEE MACHINE
Fully Automatic Coffee Machine
EQ700 integral
Inox silver metallic 
TQ703R07
Highlights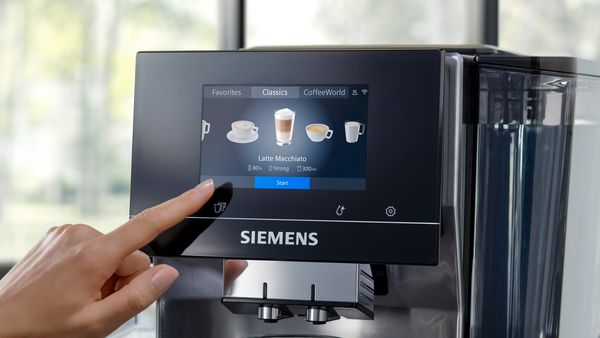 Intuitive, easy navigation on a large full-touch display – iSelect Display
It has never been so easy to tailor your coffee to your personal taste and preferences. The intuitive operation of iSelect display and its touch & slide functionality makes it incredibly simple to swipe through your fully automatic coffee machine's menu. Easily personalize your coffee – from the wide international range. Elevate your coffee experience with the outstanding 5" full-touch iSelect display.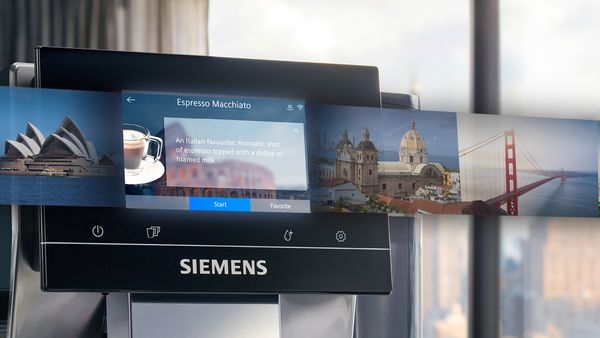 Swipe through a wide range of international coffee from the comfort of your home – coffeeWorld.
The Siemens coffeeWorld brings the fantastic taste of international coffee specialties right into your home. With up to 19 coffee variations from 8 different countries, the Siemens coffeeWorld offers you a vast diversity of coffee specialties and lets you learn more about each beverage's background – without leaving the comfort of your home.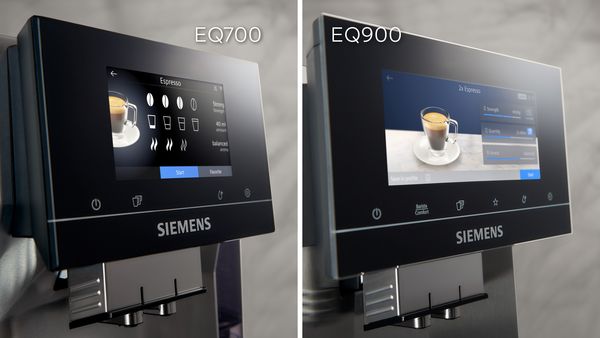 Three different aroma types, according to your taste – aromaSelect.
aromaSelect allows you to adapt the taste of coffee to your personal preferences. You can choose between three different aroma settings: mild, balanced, or distinctive. After all, everyone has an individual taste and aromaSelect makes it possible for you to choose the one that perfectly suits you.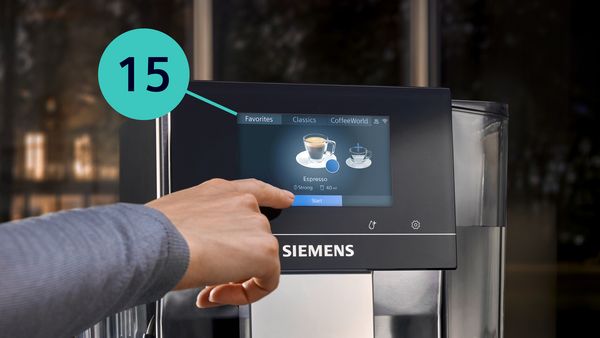 Select and save up to 15 coffee creations using Favorites
Comfort is a pleasure. Thanks to Favorites, you can save individual preferences for coffee and milk specialties and create up to 15 favorites. Simply select and save desired coffee strength, cup size, aroma profile or milk quantity. Select your personal settings any time at the touch of a button.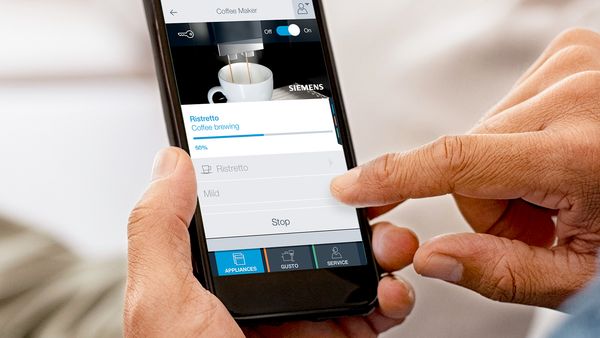 Perfectly connected to your espresso machine – Home Connect.
Control your fully automatic espresso machine with any smart device and discover the exclusive world of the Home Connect App. Try coffeeWorld, the tech that offers an additional variety of international coffee specialities on your machine. Or use coffeePlaylist to put multiple beverages into a list and your machine prepares them one after another. With Home Connect, it's easy to become the perfect host.
Perfect interaction for perfect taste – the iAroma System.
With a unique iAroma System, Siemens fully automatic espresso machines always make the best quality beverage. The interplay between a long-lasting ceramic grinder, an intelligent heater, smart waterpump and a high-tech brewing unit, creates technical perfection from the bean to the cup. Enjoy!
Smooth functionality meets perfect shape – Siemens design
Siemens design promises perfect functionality in harmony with aesthetic design. The Siemens fully automatic coffee machines not only convince through innovation and perfect results, but also with an elegant design. Thanks to the dynamic shape and seamless 360° design, you can place it anywhere.
For extra-strong coffee: aromaDouble Shot.
Extra-strong coffee without compromising on aroma — thanks to the innovative aromaDouble Shot function. With the aromaDouble Shot function, two grinding and brewing processes consistently create the best aroma. This automatic process ensures there is no bitter aftertaste, as less water means that less bitterness is released — ensuring that only the best of the beans make it into your cup.
Auto cleaning of the entire milk system – autoMilk Clean.
Making really good, aromatic coffee specialities is a delight – cleaning the milk system not so much. So Siemens developed the autoMilk Clean function. This fully automatic steam cleaning process operates after every drink, allowing you to simply sit back and enjoy a great cup of coffee.
Finely ground with a fuller flavour: ceramDrive.
The high-quality ceramDrive grinder grinds the coffee beans to a particularly even consistency, allowing all the different flavours to develop during the brewing process — for an exceptionally aromatic coffee experience. Since ceramic—unlike steel grinders—is virtually non-wearing, long-lasting enjoyment of premium-quality coffee is guaranteed.
 A brilliant full-touch display combined with a unique operating system – iSelect Display.

 Siemens coffeeWorld, explore the huge variety of international coffee specialities with one swipe.

 Three different aroma profiles to choose from, according to your personal taste – aromaSelect.

 Save up to 15 individual coffee creations with Favorites.

 Control your fully automatic espresso machine from anywhere with the innovative Home Connect App.
General
Product name / Commercial code
TQ703R07
EAN code
4,242,003,888,698
Appliance type
Fully Automatic Espresso Maker
Power consumption off
0.5 W
Power consumption standby/network: Please check the user manual for how to switch off the WiFi module.
2.0 W
Time auto-standby/network
30.0 min
Connectivity
Home Connect Features
Remote Monitoring and Control
Power consumption off
0.5 W
Power consumption standby/network: Please check the user manual for how to switch off the WiFi module.
2.0 W
Time auto-standby/network
30.0 min
Size and weight
Dimensions
380 x 352 x 467 mm
Number of cups of espresso/cappuccino
1-2
Comfort
Type of control
Electronic, NTC
Display Type
TFT-touchdisplay
Coffee grounds container
Yes
Programming of
Child-proof lock, Coffee temperature, Demo modus, Key sound, Language, turn-off time, Water filter, Water hardness
Technical details
Connection Rating
1,500 W
Plug type
Gardy plug w/ earthing
Accessories
Included accessories
1 x water filter, 1 x test strip, 1 x welcome-Box, 1 x milk container (simple), 1 x Brita filter insertion aid