Bosch Serie 2 60cm Combi Fridge/Freezer – KGN36NL30Z
Series 2
Freestanding Fridge-freezer (Bottom freezer)
186 x 60 cm
Stainless steel look
KGN36NL30Z
Highlights
Enough space for all your fresh food.
The multi box drawer is suitable for storing fruits and vegetables – especially large items such as big lettuce will have enough space.
Place your fridge anywhere.
Place your fridge wherever you want. Other standard fridge freezer models on the market need a distance of around 10 cm from side walls for doors and drawers to open. Thanks to Perfect Fit, ourfreestanding fridge freezer range can be positioned right against side walls and furniture. The fridge freezer width corresponds to the niche dimensions.
Keeps the contents of your fridge in the spotlight.
LED lights bring a completely new lighting concept to fridges, guaranteeing even, glare-free interior illumination. LED lights use less electricity than conventional fridge bulbs and last for the entire life of the appliance.
Never defrost your fridge again.
Defrosting a fridge by hand can be very annoying and time-consuming. Thanks to our new fridges with NoFrost, you can easily remove this task from your to-do list for good. Unlike in conventional fridges, the air humidity in a NoFrost fridge is permanently collected in a central chiller unit, which automatically defrosts on a frequent basis. The resulting condensation is simply channelled outside out of the fridge, where it then evaporates. This way, NoFrost permanently keeps your fridge free of not only ice, but also the need for manual defrosting. Enjoy some ice cream instead.
FreshSense
Thanks to the optimum storage conditions, your food preserves an ideal consistency; ice cream, for instance, is neither too soft nor too hard. A constant temperature in the fridge interior is a decisive factor in achieving more freshness and flavour. FreshSense sensors constantly monitor and control the ambient, fridge and freezer temperature. A constant temperature inside the fridge, independent of the outer temperature, is the result.
The fridge that regulates itself.
Uneven cooling in your freezer can greatly affect the flavour and longenvity of your food. Our fan-assisted MultiAirflow System causes gentle, even currents of cold air to emerge at all levels of the chilling and freezing area. Temperature fluctuations are minimised and cooling times reduced – which helps your foods retain their integrity for longer. Enjoy freshness from top to bottom.
MultiBox: transparent drawer with wave bottom, ideal for the storage of fruits and vegetables
 

Perfect Fit:

 The appliance can be positioned right next to side walls and furniture – flexible installation possible

 

LED light:

 illuminates the refrigerator evenly without glare, for the life of the appliance.

 

NoFrost:

 never defrost again, thanks to perfect protection from ice formation – that saves time and effort.

Organized freezer drawers
Additional product information
General
Colour
Stainless steel look
Door hinge
Right reversible
Door panel options
Not possible
Door handle type
integrated horizontal handle
Type of control setting and signalling devices
Super setting for freezer, Temperature for freezer, Warning function freezer sect., Warning signal door open, Warning signal for malfunction
Energy consumption annual – NEW (2010/30/EC)
235.00 kWh/annum
Noise level
42 dB(A) re 1 pW
Total unit net capacity
302 l
Refrigerator Net capacity
215 l
Freezer Net capacity
87 l
Total unit gross capacity
329 l
Refrigerator Gross capacity
219 l
Freezer Gross capacity
110 l
Size and weight
Dimensions
1860 x 600 x 660 mm
Size and weight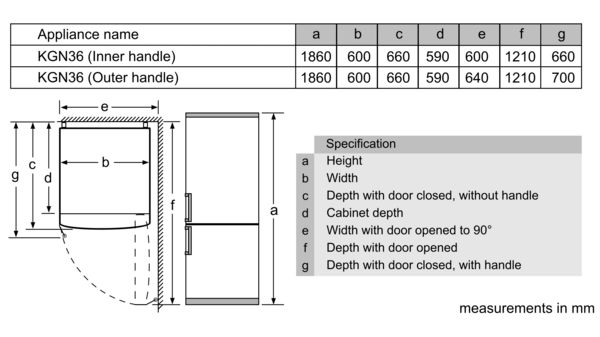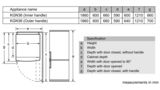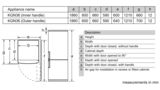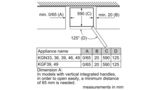 Comfort
Type of bottle rack
Without
Number of shelves in fridge compartment
4
Number of Adjustable Shelves in fridge compartment
3
Number of Door Bins – Refrigerator
4
Storage Period in Event of Power Failure (h)
19 h
Freezing drawers (Stck)
3
Number of freezing flaps (Stck)
0
Consumption
Total net capacity: 302 litres
Design
Doors Stainless steel look doors, side panels Pearl grey (VZF 07127)
integrated horizontal handle
LED with Soft Start in fridge section
Comfort and Safety
Frost free – never again defrosting
Fridge Section
Net capacity refrigeration zone: 215 l
4 safety glass shelves of which 3 is height adjustable
Freshness System
MultiBox: transparent drawer with wave bottom, ideal for the storage of fruits and vegetables
Freezer Section
Net freezer capacity 87 litres
Freezing capacity: 11 kg in 24 hours
Storage time in power failure: 19 Hours
3 transparent freezer drawers
APPLIANCE DIMENSION
Dimensions: H 186 cm x L 60 cm x D 66 cm
TECHNICAL INFORMATION
Door right hinged, reversible
Height adjustable front feet, roles in the back