ME9114S1 Solo MWO with Smart Sensor, 32 L
ME9114S1/XFA
Sensor Cook
1,500 W
Power Consumption (Microwave)
517 x 297 x 395 mm
Outside (WxHxD
Three Waves are Better Than One.
At Samsung, we pride ourselves on improving every product we make with innovative technologies. Our Triple Distribution System ensures that everything from pizza to warm milk comes out perfectly prepared and delicious every time thanks to three microwave distribution points. With our microwave ovens, you'll enjoy consistently even, thorough cooking.
Rapid Defrost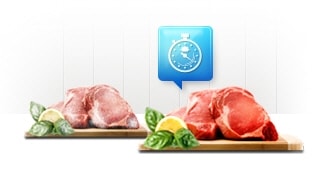 The brilliant feature of Rapid Defrost lets you defrost frozen foods quickly and evenly. Food won't get soggy. Defrost frozen foods to their freshest state. So you and your family can enjoy delicious food whenever you want.
Always at it's wow-it-looks-brand-new best.
Ceramic Enamel is the next best thing to having someone to take care of your oven for you. To start with it's durable, the way any good kitchen appliance should be. So no matter how your family uses it, it won't scratch like stainless steel, or crack like plastic. And it's also easy to clean. All you need is a damp cloth to wipe away all kinds of splatters. In addition, the walls are coated with an advanced material that acts as an anti-bacterial agent and deodorizer. Which is all good news for you because, while your whole family will love using it, they don't always pitch in to clean it.
Type
Capacity
Materials/Finishes

Control Method 

Membrane

Door Type 

Side swing

Cavity Material 

Ceramic Enamel

Turntable Size 

318 mm

Display Type 

LED

Power/Ratings

Power Source 

230 V / 50 Hz

Output Power (Microwave) 

1,000 W

Power Consumption (Microwave) 

1,500 W

Power Level 

11

Features

Clock 

Yes

30 sec. Plus 

Yes

Eco Mode 

Yes

Defrost (Auto / Power / Sensor) 

Yes (Power)

Sensor Cook 

Yes

Child Safety Lock 

Yes

Kitchen Timer 

Yes

Sound on/off 

Yes

Accessories
Weights/Dimensions

Cavity (WxHxD) 

357 x 255 x 357 mm

Outside (WxHxD) 

517 x 297 x 395 mm

Shipping (WxHxD) 

578 x 376 x 446 mm

Weight (Net) 

14 kg

Weight (Shipping) 

15.5 kg

Loading Quantity (20/40ft) 

300 / 600 / 700