Samsung 27kg Black Caviar Toploader Washing Machine with BubbleStorm™ – WA27B8375GV/FA
27kg Top Loader, With BubbleStorm™ WA27B8375GV
Highlights
BubbleStorm™
Wash faster and more efficiently with BubbleStorm™.
Digital Inverter Technology
Digital inverter motor utilizes strong magnets for a quieter and more powerful performance. Using a weight sensor, it works according to the load size saving up to 40% energy compared to a universal motor. It also offers the industry's longest durability and warranty of 20 years*
* Based on internal testing of the WA5000T with an inverter motor and the WA5700J with a non-inverter motor on a Normal Cycle (15 ± 2℃, 3kg load).
** 20-year warranty is limited to the motor only.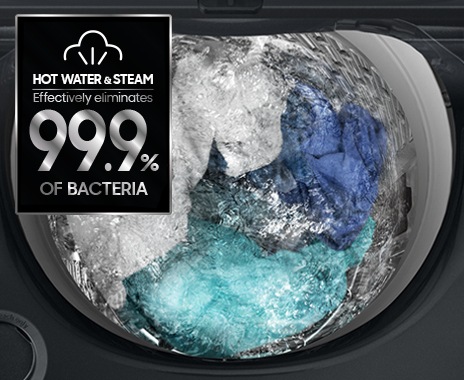 Hygiene Steam
Give laundry an intensive and hygienic clean with hot water and steam.
Wash faster*, more efficient*
BubbleStorm™
Wash faster and more efficiently with BubbleStorm™. Its 3 specialist functions clean clothes in 31 minutes*, using 20% less energy* and 23L less water*. Active Bubble™ helps detergent penetrate 2.5x faster**. A Dual Storm™ whirlpool cleans effectively. And Speed Spray™ cuts rinsing times.
99.9% Sanitizes clothes**
Hygiene Steam
Give laundry an intensive and hygienic clean with hot water and steam.A 60°C sanitize wash cycle* washes as 60°C to sanitize clothes, eliminate 99.9% of bacteria** and remove stubborn and oily stains***. Or you can adjust the temperature to 40°C to clean everyday marks and soiling, like sweat.
Fast and efficient
Heavy Duty+
Enjoy highly concentrated detergent washing with the Heavy Duty+ cycle. It automatically starts washing using 20% more concentrated detergent for an intensive cleaning action. So it reduces the washing time by 21 minutes* and energy consumption by 11%*, but has the same washing performance.
Powerful filtration
Magic Filter
Keep unsightly speckles off your whites and darks, and protect the drainage from getting clogged up. A Magic Filter with a dual mesh, at the front and back, effectively gathers the lint, fluff and particles that come out of your laundry. And it's easy to empty out the filter as it opens 180°.
Peaceful washing
VRT Technology
Do your laundry anytime without creating a disturbance – even at night. Innovative Vibration Reduction Technology® (VRT) reduces noise and vibration during washes*. It keeps the tub balanced even at high spin speeds, regardless of load size. So there's less risk of disturbing anyone.
* Based on internal testing compared to a Samsung conventional model without VRT Technology.
Eco Tub Clean
Keep your top load washer fresh and hygienically clean, while being eco-friendly and saving money. The Eco Tub Clean course removes dirt and up to 99% of bacteria* that can build-up in the drum, without using harsh or costly detergent. And it notifies you automatically when it needs cleaning**.
* Eliminates 99% of Bacillus pyocyaneus from the surface of a tub. Based on internal testing, verified by Intertek: equip a tub polluted with bacteria into the machine, run the Eco Tub Clean cycle and then compare the number of bacteria before and after the cycle. The Eco Tub Clean function should be used with no laundry inside the tub. Individual results may vary depending on the actual usage conditions.
** Recommended for use every one or two months, when an alert icon turns on.
Smart Check
Smart Check, an automatic error-monitoring system, detects and diagnoses problems and provides quick and easy troubleshooting solutions using a smartphone App.*
* Available on iPhones and Android devices.
** Service callouts will occasionally be required and may incur extra repair costs.
Soft Closing Door
Avoid being frightened by unexpected bangs! The Soft Closing Door shuts safely, gently and silently, as a damper automatically slows its movement. A tempered glass window also lets you view your washing without lifting the lid. And it's durable and strong, so it won't get scratched or damaged.
Specifications
Washing Capacity (kg)

27.0 

Net Dimension (W x H x D)

700 x 1151 x 748 mm
Specifications Detail
Washing Capacity
Washing Capacity (kg)

27.0 
Design
Body color

Black Caviar

Door

Wide Tempered Glass
Recurso
BubbleStorm™

Yes

Active Bubble™

Yes

SpeedSpray™

Yes

Dual Storm™

Yes

Hygiene Steam

No

Air Turbo

No

Child Lock

Yes

Delay End

Yes

Door Lock

Yes

Drum type

Swirl drum

Magic Filter

Yes

Mist Shower

Yes

Motor

DIT

Pulsator

STS Dual Storm™

Spin Speed

700 rpm

Smart Control

Yes

Smart Check

Yes

Soft Close Lid

Yes

Tempered Glass Window

Yes

Water Level

10 Levels
Cycle
Heavy Duty+

Yes

Clean Wash

Yes

Towel

Yes

Baby Care

Yes

Bedding

Yes

Delicates

Yes

Eco Tub Clean

Yes

Normal

Yes

Option List

Water Level, Wash Time, Rinse Times, Spin Speed, Speed Spray, Delay End, Smart Control, Alarm Off, Soak, Cold, Hot

Quick Wash

Yes

Rinse + Spin

Yes
Physical specification
Net Dimension (W x H x D)

700 x 1151 x 748 mm

Net Weight

63 kg
App Connectivity
SmartThings App Support

Yes